PURCHASING SETS
Camelot sets were widely sold in department stores and toy & game stores from 1930 to 1968. Below is a photograph of the Camelot display at a Marshall Field's department store in 1931.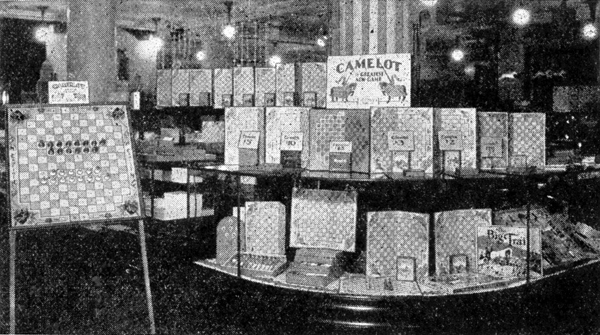 Unfortunately, other than a brief reintroduction of the game to the marketplace in 1985 and 1986 under the name of Inside Moves, buying a new set has been impossible for over 40 years.
Nevertheless, there are ways to obtain Camelot sets. First of all, if you don't wish to spend any money purchasing a set, here is a downloadable Microsoft Word document that yields, when printed and cut out, a Camelot board and 28 Camelot playing pieces. It's a free Camelot set!
Additionally, there are several alternatives for either acquiring a used set, or making your own set. The best place to buy a used Parker Brothers set is by bidding on eBay. At any given time, there are usually 15 or 20 Camelot and Inside Moves sets up for auction, most of them selling in the $10-$25 range.
There are also many choices for inexpensively making your own set. For example, here is a set I made from a Parker Brothers board and two sets of chess pieces; here is a set I made out of LEGO blocks; here is a set I made out of a piece of wood and two sets of peg chess pieces; and here is a set I made from plywood, ceramic tiles, and two sets of chess pieces.
Now there are even sources to purchase brand new Camelot, Cam, and Grand Camelot sets. Follow the links below to learn more about them.