CAMELOT IN MAGAZINES AND BLOGS
Following are examples of references to Camelot that have appeared in print and web magazines and blogs.
Calvin Daniels is an award-winning journalist and author of three books. He is an Assistant Editor and Senior Reporter with Yorkton This Week, a Saskatchewan newspaper. Two of his blogs are "From the Desk of Calvin Daniels" (http://calmardan.blogspot.com/) and "Cals Board Game Musings" (http://calsboardgamemusings.blogspot.com/).
The following article appeared in the December 11, 2008, edition of "Cals Board Game Musings," and is reprinted here with Mr. Daniels' kind permission.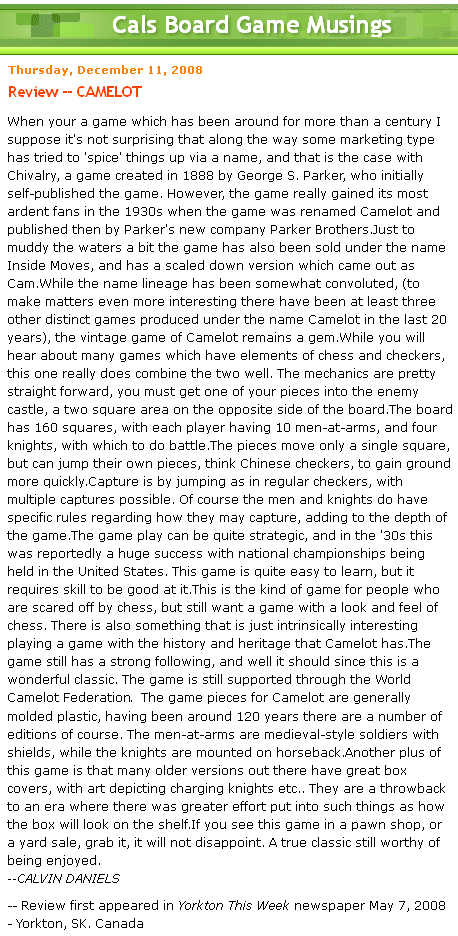 Jenny Kile is a game developer, reviewer, researcher, collector, and player. Her delightful website, All About Fun and Games, is dedicated to providing game-playing enjoyment to families and individuals. It can be accessed here. She is a member of the Association of Game and Puzzle Collectors.
The following article appeared in the January 24, 2012, edition of All About Fun and Games, and is reprinted here with her kind permission.

Jesse Schell teaches game design and leads research projects at Carnegie Mellon's Entertainment Technology Center. Mr. Schell is also the CEO of Pittsburgh's largest videogame studio, the author of The Art of Game Design, and the former chairman of the International Game Developers Association. In 2004, he was named one of the world's Top 100 Young Innovators by MIT's Technology Review magazine. Mr. Schell was the Creative Director of the Disney Virtual Reality Studio. He also was a Software Engineer at IBM and Bell Communications Research. Jesse's blog, Things I Finished, and many other interesting creations of his can be accessed at http://www.jesseschell.com.
The following article appeared in the January 24, 2010, edition of Mr. Schell's blog. He has given his kind permission to allow it to be reprinted here.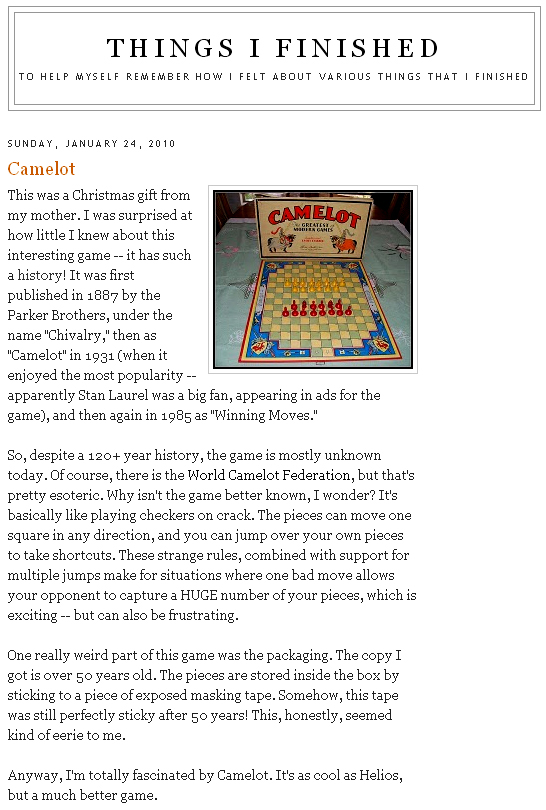 Skip Maloney is a freelance writer for a variety of regional and national publications including GAMES Magazine and Knucklebones Magazine. His specialty is the hobby of board gaming. He is also a National Examiner for Examiner.com, a print and electronic magazine that serves 70 major markets across the country. Skip's home page is http://www.examiner.com/x-2590-Board-Game-Examiner .

The following article appeared in Skip's "Board Game Examiner" column of June 18, 2009. Skip has given his kind permission to allow it to be reprinted here.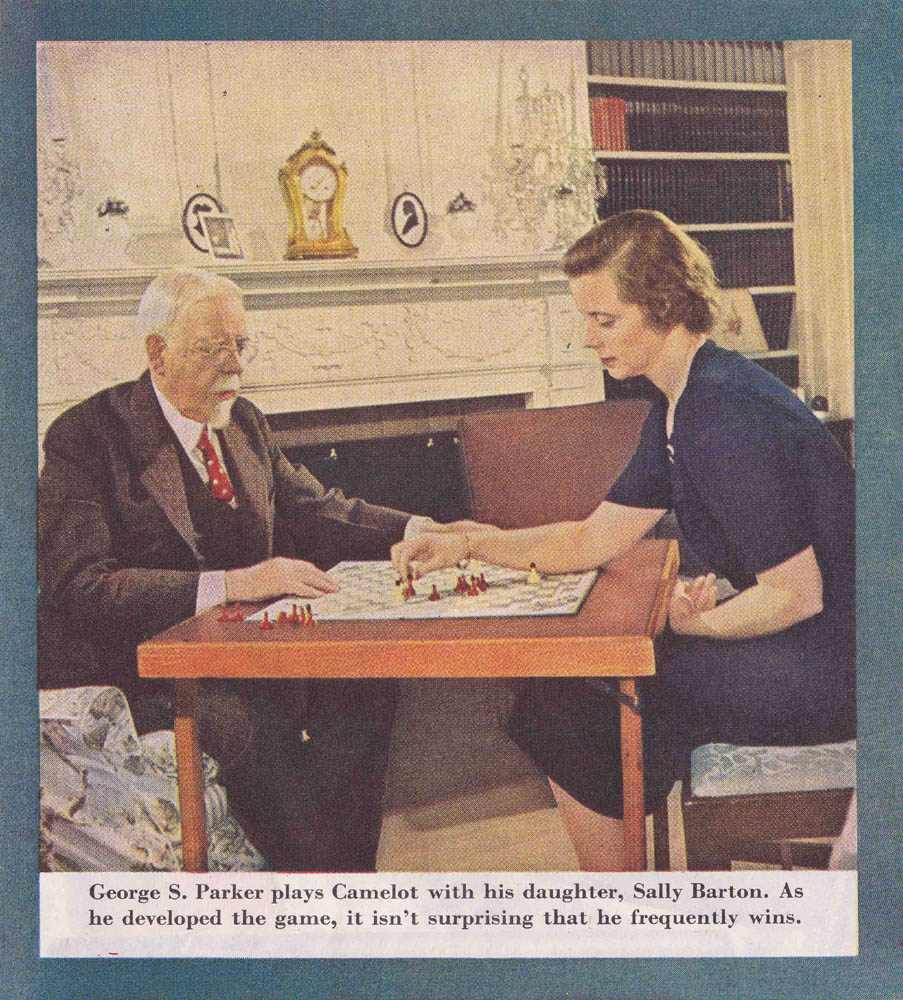 This picture of George S. Parker, inventor of Chivalry and Camelot, and his daughter, Sally, playing a game of Camelot, appeared in the October 6, 1945, issue of The Saturday Evening Post.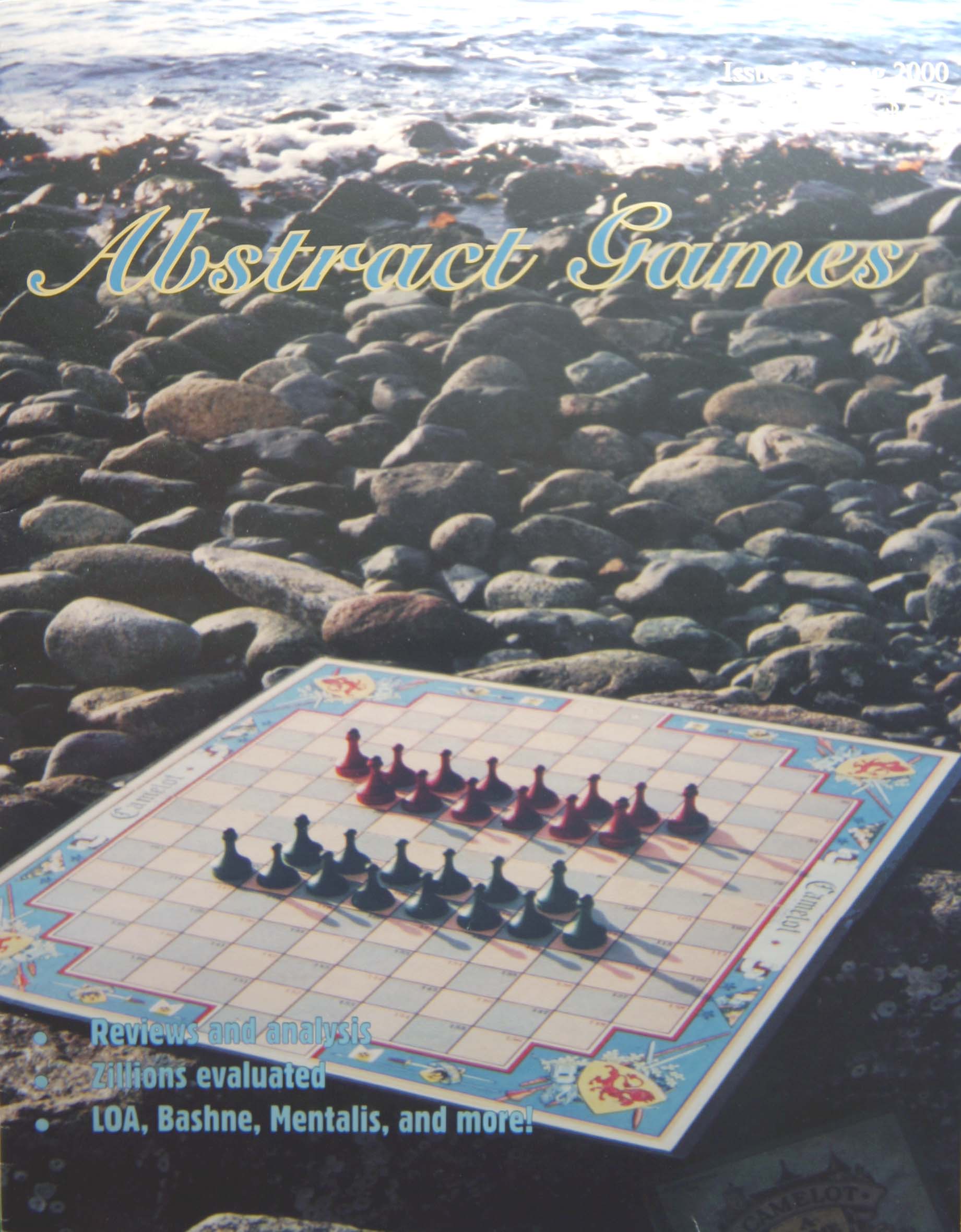 Camelot was featured on the cover of the first issue of Abstract Games Magazine.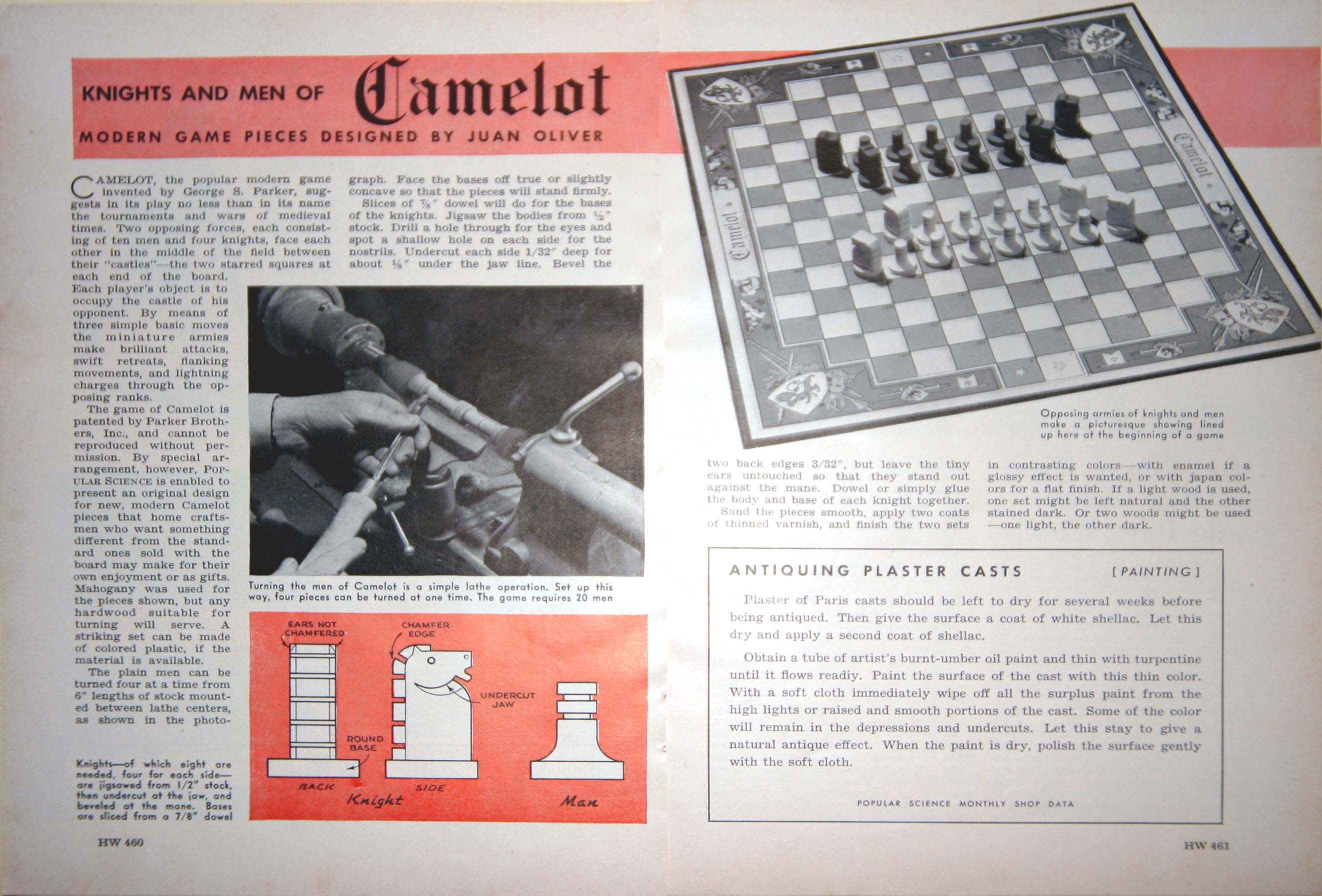 From a 1943 issue of Popular Science Monthly, woodturning plans for the construction of Camelot pieces.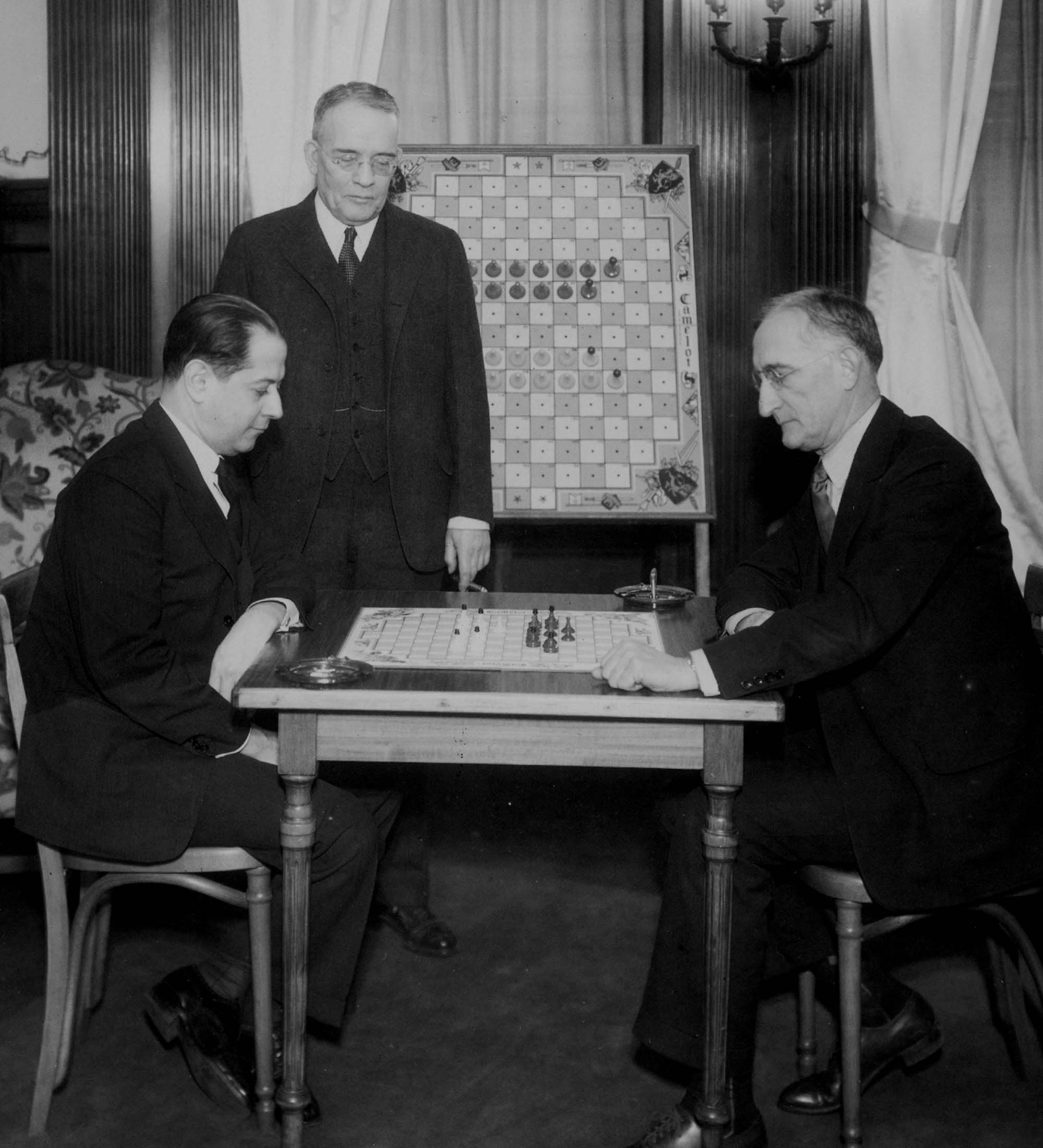 Pictured (on the left) is Jose Raul Capablanca, World Chess Champion from 1921 to 1927. Grandmaster Capablanca, one of the five greatest chess players of all time, is playing Camelot with Bridge Hall of Famer Sidney Lenz, while bridge expert E.V. Shepard looks on. This photograph, believed to have appeared in a bridge publication of the time, was taken at the Contract Bridge Club in New York City on February 7, 1931, and is used with the gracious permission of the American Contract Bridge League. You can learn more about the ACBL here.